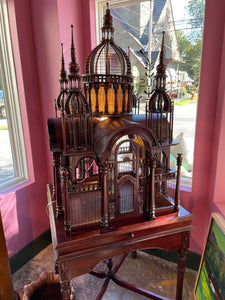 1920'S MAHOGANY BIRD CATHEDRAL
Regular price
$2,400.00
Sale price
$3,200.00
Unit price
per
Exceptionally beautiful, solid, and rare cathedral architectural mahogany birdcage based on a design after the Sacre Coeur church in Montmartre, Paris. Dating from the second half of the 20th century, featuring a central dome with four arches, towers at each corner, each side with a portico and door, a refuse drawer, a conforming carved stand, and carved architectural details in the classically inspired Romano-Byzantine style Cathedral.
Dimensions: 28 1/2"W x 28 1/2"D x 43"H Base Dimensions: 28"W 28"D 28"H
To purchase, inquire at
inquiries@studiosfw.com
,
or call 845.516.5162.
---