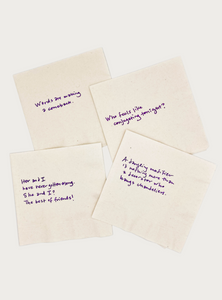 VERBAL ABUSE 2.0 COCKTAIL NAPKINS
Regular price
$12.00
$0.00
Unit price
per
Quipnaps from our friends at Wordplaya Productions.  Lamenting the English-speaking world's grammatical nonchalance? Taking license with the pillars of proper syntax, these quips offer not only micro-aggressions against the Barbarians among us but also the insider satire that makes for a wordsmith's lullaby. Fancy some fizz?

SPECS FOR THOSE WHO CAN NO LONGER READ NUMBERS AS WORDS:
3-ply white paper napkins
24 per box, 6 of each of 4 quips
edged on two sides with ridges that mimic those on a quarter, hence "coined"
printed in lustrous metallic foil in the patented hand-writing of the QuipNaps creator

COLLECTION INCLUDES:
Who feels like conjugating tonight?
Her and I have never gotten along. She and I? The best of friends!
Adorable as they are, they and them are still working on the grammar of their identity.
A dangling modifier is nothing more than a decorator who hangs chandeliers.
---